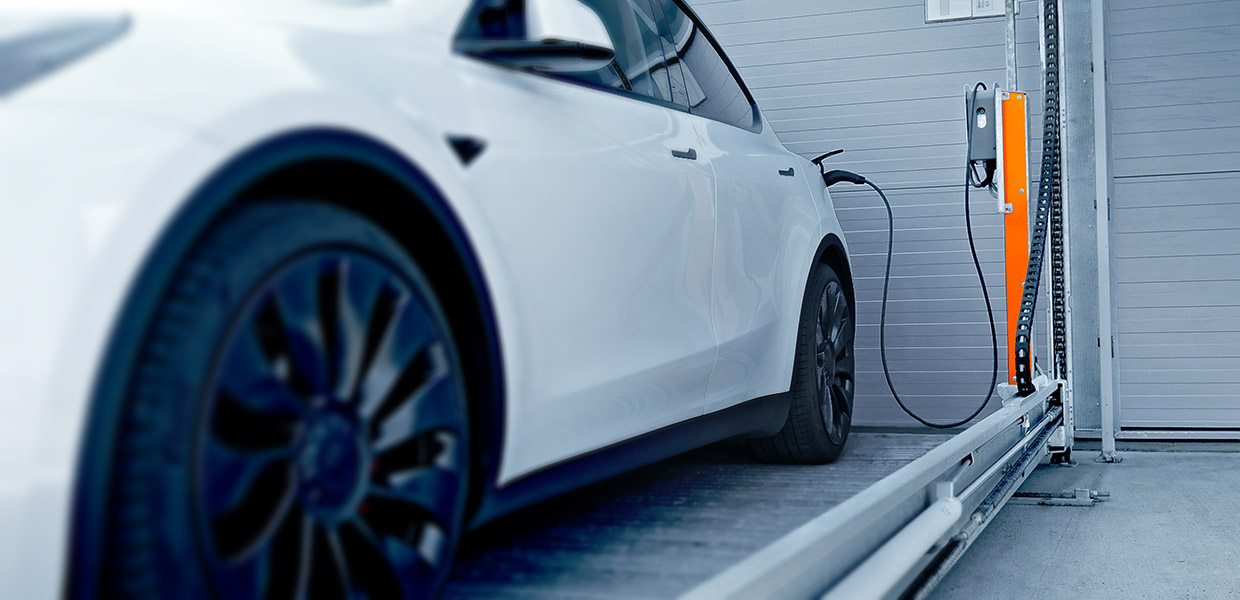 E-PARKING
Park & Charge
The proportion of electric vehicles on German roads is steadily increasing. EVs are usually charged close to home – in residential garages and parking spaces.
As a manufacturer of innovative and sustainable parking systems, we want to provide our customers and end users with easy access to e-mobility via our "E-parking" project. Our goal is to make it possible to charge EVs while they are parked in our parking systems. This principle behind this is as logical as it is simple: the required wall boxes are installed in the parking system to enable the vehicles' owners to charge them. On request, we can equip our systems with the necessary units.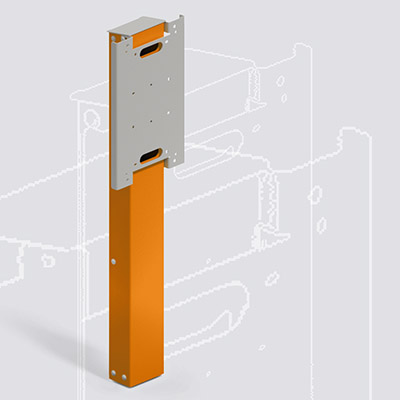 Transforming e-charging into e-parking: you can install your wall box on our parking system platforms equipped with our "E-Plug in" charging solution. This makes it easy to recharge your vehicle while parked. No matter when, where or how the platform moves within the system, the wall box will always follow.
As the position of the unit is variable, the charging cable will never be far from your electric vehicle's charging port. Thanks to its slender design, the unit can even be mounted on narrow platforms. In principle, an E-Plug-in unit can be installed in any parking space within a parking system. What's more, they can also be retrofitted in existing garages.
Please contact a certified electrician to discuss the options for connecting our unit to your building's mains network.
At the moment, E-Plug-in units cannot be installed in the parking systems without exception. Please contact our sales department, who will be able to provide you with the latest information.
Please note that only the "E-Plug in" charging preparation is delivered by KLAUS Multiparking. Further information on the "E-Plug in" charging preparation, its installation and a connection diagram for the power supply can be found in our "E-Plug in" brochure.
---
IMPORTANT FOR OUR CUSTOMERS:
Items to be supplied by the customer:
Wallbox (max. 22 kW)
Charging cable for electric vehicle
Load management and electricity meter, if necessary
Equipment labels, if necessary
Work to be performed by the customer:
Connection of the power supply and data cable (if necessary) to the transfer box.
Assembly and connection of the wallbox (max. 22 kW) to the retaining plate of the E-Plug-in pillar.
Electrical power supply, connection and grounding, as well as testing of the associated potential equalisation of any charging station must be carried out by the customer in accordance with the specifications of DIN EN VDE 0100.
Sub-distribution, fuse protection and cabling up to the transfer box.
Installation and commissioning of the charging infrastructure. Insulation and PE conductor testing of the entire charging infrastructure.
During use:
Care must be taken to ensure that the charging cable does not get in the way of the moving platform and is safely stowed away after use.