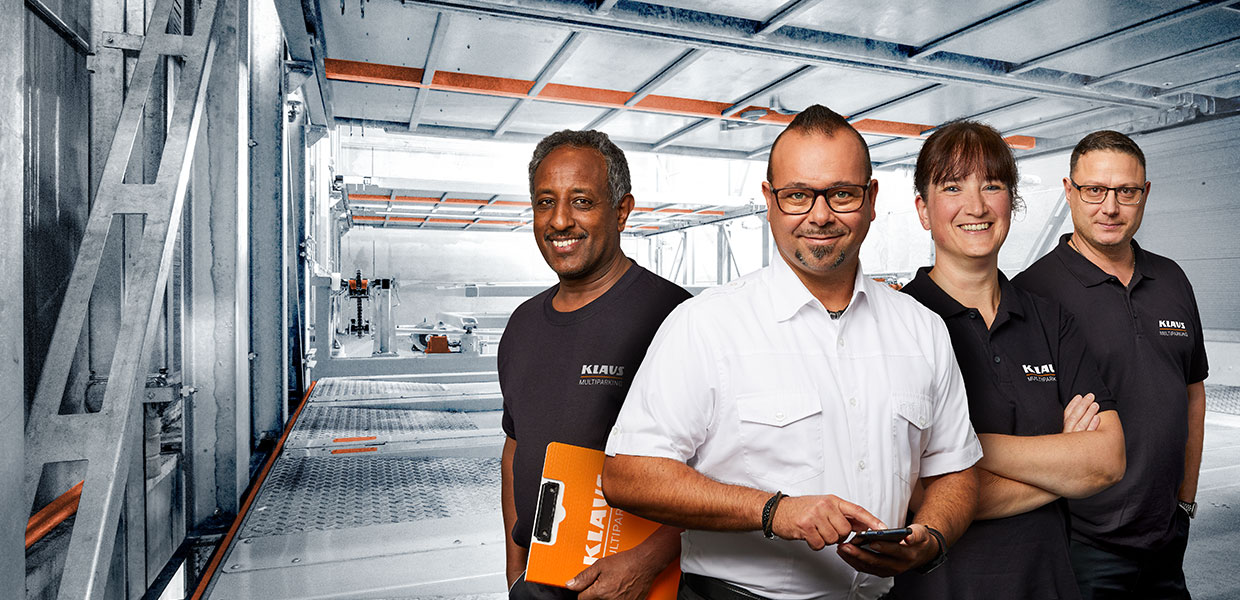 Our Specialist Service
Premium Service and support directly from our local us teams.
Full Support 24/7
We care about our customers! This translates into a professional and reliable maintenance service that is an integral part of each of our parking systems. We take care of cleaning, maintenance, renovation and emergency service. If a malfunction occurs in your system – we are on hand to assist you and have a comprehensive availability of spare parts for your parking system. Our service teams can be reached 24 hours a day / 365 days per year.
With our service your systems receive regular care at a low cost. Regular maintenance increases the service life of your parking system with optimal value retention. Our trained staff performs all maintenance work quickly, efficiently, and competently for all of our systems – stackers / parkers, semi-automatic puzzle systems, and fully automatic systems. Rely on us, because we at KLAUS Multiparking America Inc. want you to be able to use your parking space at any time without failures or technical problems. True to our motto: PARK & SMILE!
Our national partners are pleased to offer maintenance contracts for your systems including:
Systems Inspection
Cleaning
Preventative Maintenance
Warranty Extension
Refurbishment
An easy way to increase the value of your property! Even after years of system use there is no need to replace your existing parking system. To preserve your systems' value we offer a premium surface treatment for your system. We can also bring your system up to date via targeted upgrades. Before refurbishing a parking system, we perform a thorough analysis of the existing components and identify those parts that require replacement. This ensures maximum system utilization at minimal cost.
Design Service
Our experienced experts work with you and your design and construction teams! We are your parking partner. From the beginning of a project and throughout we will participate in team meetings to understand the site specific requirements of your property and development. Our complimentary design services are offered to assist your planning. We include system recommendations, system layouts, and budget proposals to ensure the optimal KLAUS Multiparking system solution is selected for your project's unique needs.
It goes without saying that we at KLAUS Multiparking are more familiar with parking systems than anyone else -- thanks to over 32 years of experience in the USA and over 60 years worldwide.
Find your Service-Partner: