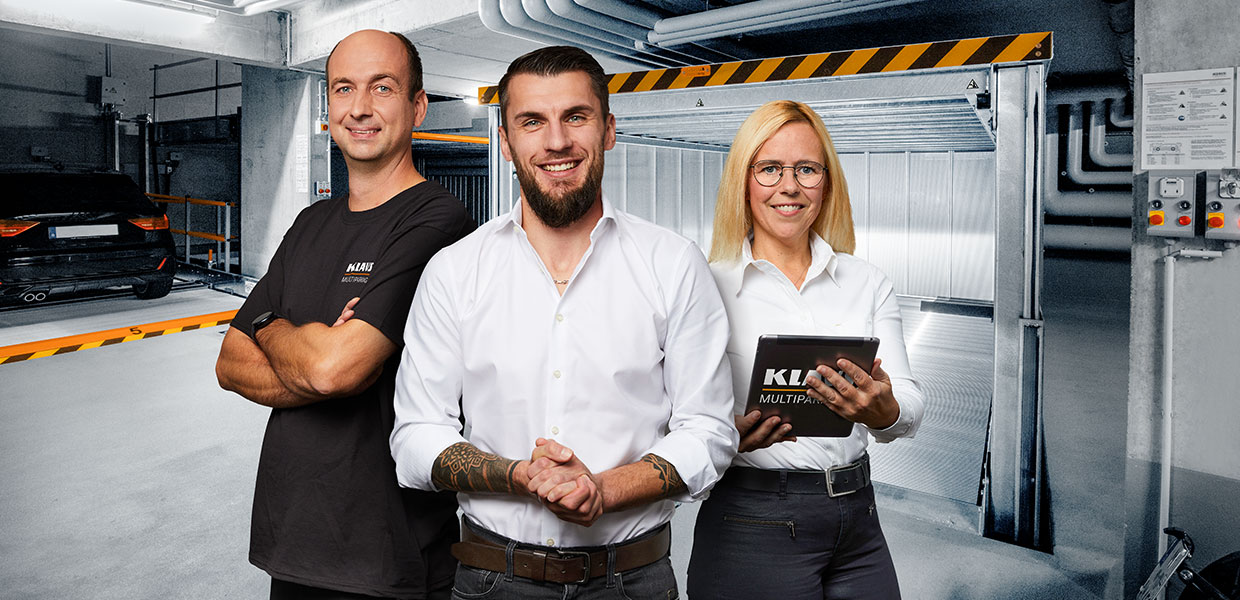 PRODUCT OVERVIEW
The perfect parking solution for every requirement!
Parking lift systems for residential, multifamily, mixed-use, student housing, hospitality, commercial developments, entertainment venues, parking lot solutions, and more
The concept of our self-park and valet parking solutions is simple - to increase the number of available parking spaces in the smallest area. They are safe, simple, and easy to use for the individual parking their vehicle and for valet operations. Depending on the system and size, our parking systems can range from simple to complex technical designs, but still allow for flexible integration into project concepts and planning.
KLAUS Multiparking's space-saving and all-weather design systems are ideal for diverse projects - whether car parking and vehicle storage is indoors or outdoors. The systems product range includes both mechanical and electronically controlled automatic parking systems. We manufacture high quality, space saving, modular car parking solutions - from our Stacker/Parker systems, Semi-Automatic Puzzle Systems, Pallet Systems, and up to our Fully Automatic Systems (Tower Systems, Shelf Systems, and Layer Systems). To assist your planning for car parking we offer numerous models for each type of system to address site restrictions and available clear floor to ceiling heights. Systems are available that do not require a pit for reduction in excavation for a project. For those projects where a pit system can be installed the excavation for underground parking is minimized to only the actual locations of the systems.
BETTER PARKING | BETTER PROJECT. Diverse project types require innovative parking solutions – a KLAUS system. Our car parking solutions for new construction and renovation projects include garage car lifts, residential parking lifts, commercial parking lifts, parking towers, parking pallets, and parking lot solutions. The unoccupied parked vehicles are moved within the systems allowing parking spaces to be used far more efficiently. They provide sustainable and cost-effective benefits to a project. Providing a smaller parking area footprint improves the overall development's footprint and maximizes land usage. The saved space not used for parking can be reallocated to a higher use – increased living, working, and green spaces. Functionally and environmentally the KLAUS systems add value to your developments.
In our systems product portfolio, you'll find the perfect car parking solution for every requirement. For car collectors and auto dealerships we have vehicle storage system solutions that can protect and display your inventory. The KLAUS systems provide first-class functionality and premium quality "Made in Germany | USA Ready".
Our four system product groups include many different car parking solution options. Download our system Specifications and Product Data, CAD Files, and REVIT Models.
Stacker systems
Semi-automatic / puzzle parking systems
Fully automatic parking systems
Parking pallets and turntables
We are here to help you! Our knowledgeable sales team can provide you with the parking solution recommendations most suited for your project's needs as well as system drawing layouts and turn-key budget proposals. We will work with your project team to provide the information and coordination you need for a successful project system implementation. Our local installation and service teams ensure your systems are in optimal working order.
Contact us today to discuss a project you have on the boards and let us make your car parking planning and design a PARK & SMILE experience.